Plastic pollution has become one of the most pressing environmental issues, as rapidly increasing production of disposable plastic products overwhelms the world's ability to deal with them.
Private public partnership On St. Thomas, volunteers coordinated by the Environmental Association of St. Thomas and the Green Team met at 8 a.m. Saturdays to sort and bag eligible plastic containers for recycling
The V.I. Children's Museum, working with the Environmental Association of St. Thomas(EAST), the V.I. Green Team, and VICS, was collecting plastic bottle caps that can't be recycled; these are then processed into usable products like bag clips and bowls.
Recycling Plastic Water, Juice and Soda Beverage Containers on Saturdays
Volunteers and participants meet up at The Market STT between 9 am to 11 am on Saturday mornings only for the return of our volunteer community-based recycling initiative. Do not drop your items off before or after these times at the designated location at the Market STT. Please visit fill out the form below to become a volunteer today!
For the sake of efficiency and the safety of our volunteers, we have decided to streamline the process going forward. Volunteers will ONLY be accepting clean and empty plastic one gallon water jugs, plastic water bottles, beverage soda/juice bottles only (PET #1 and #2). These types of plastics were selected for this new launch based upon the data we collected from last year's campaign before Covid19 struck the territory.
No caps are allowed on the containers or any item that is colored black, regardless of the category of plastic. This is especially important because the crusher will not be able to work properly before it is crushed, and bailed.
Volunteers will not be sorting or handling items at the drop off. No black bags holding your presorted items will be accepted at the drop off. Volunteers visibly need to know what you are dropping off before accepting your bags, use only a clear or white colored bag to hold your plastic one-gallon jugs, plastic water bottles, beverage soda/juice bottles.  We will refuse to accept bags that are not placed into a clear or white colored bag. As supplies last, we will be providing one large clear bag per family for use on their next visit.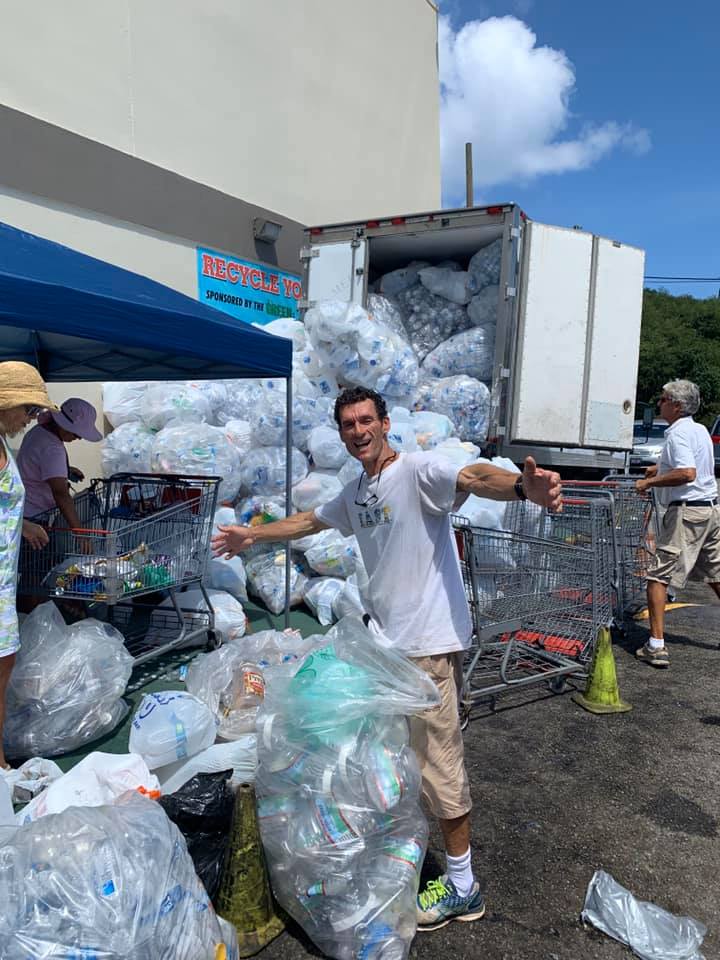 We are now accepting aluminum cans for recycling on Saturdays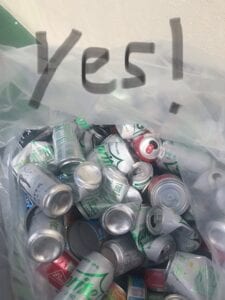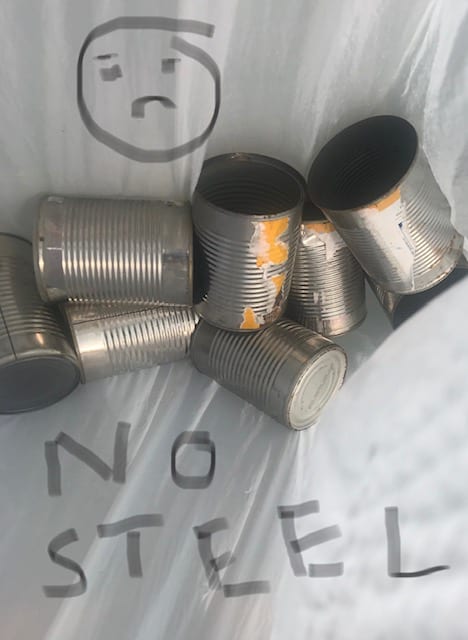 We urge you to investigate into more ways to reduce your impacts to our overburdened landfills. This is not a permanent solution, and we urge the VI Waste Management Authority to play a more active role in waste reduction efforts with public community-based programs and opportunities.
We are now accepting aluminum cans for recycling on Saturdays but they must be empty with no liquids or trash inside. We will NOT accept steel containers ( see photos below) look for the ridges on the sides to identify them. Another way to tell is if a magnet sticks to the containers it is not aluminum.